Call me naive. Call me crazy. But also call me loyal, strong, and true. This blogger is picking BYU to pull off the upset against #15 Texas Saturday night in Provo. (Don't worry, I don't have any money on it.)
My prediction: BYU 33, Texas 17.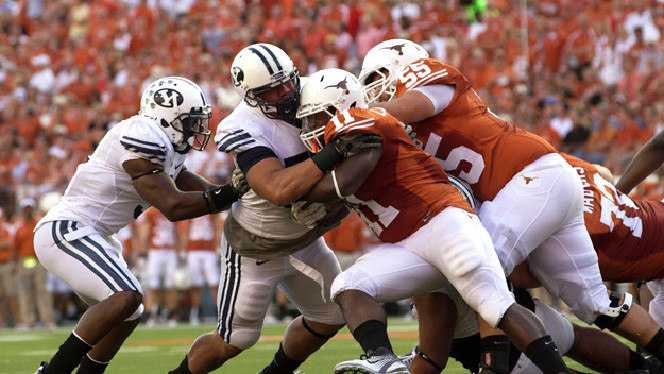 Make no mistake, last week's ugly loss to UVA was difficult to get over. I am still having nightmares about the head-scratching 3rd down play call that turned into a game-changing interception. Cougar fans have become far too used to close games going the other way, and in Charlottesville BYU managed once again to snatch defeat out of the jaws of victory.
But I refuse to let hope die. I refuse to relegate myself to pessimism and hyper-criticism. To be sure, there are many areas upon which this team needs to improve, but this is a talented football team that just might have some lightning in a bottle stored up somewhere under the bleachers in Lavell Edwards Stadium. Here's why I think the stars will align for a huge win for the Cougs:
1. Go Fast vs. Go Hard. Texas, like the Cougars, has adopted an up-tempo scheme, and that should play to BYU's advantage. The Cougars' defense has been stellar for the past few years, and they have been practicing against an up tempo offense all off-season. I suspect that BYU's defense will be much better prepared for the fast pace, both in strategy and conditioning. Let's also not forget about the altitude and how that will affect a visiting team's ability to run a lot of plays.
2. Weather the Storm. As luck would have it, the weather report indicates that there may be thunderstorms starting a few hours before the game and going until 7:00. (In fact, the 30% chance of precipitation matches last week's report that almost made my wife and I leave our umbrella in the car when we parked at the stadium in Charlottesville last week). While BYU certainly did not shine in the rain last week, a downpour would be to the Cougars' advantage since they have already experienced playing in those conditions.
3.
Hoffman to the Rescue
. The impact of WR Cody Hoffman's absence last week cannot be understated.
As I observed after last week's loss
, QB Taysom Hill did not connect with any receiver more than 3 times against Virginia as the passing game was never able to get in a rhythm. All that will change this week as Hill will have BYU's best offensive threat in the past few years back to tear up the Longhorn defense. I predict that Hoffman catches at least 8 passes for over 100 yards and 2 touchdowns. With Hoffman there to keep the defense honest, Sophomore sensation RB Jamaal Williams should be able to run for over 100 yards with half the carries he had last week.
So, there you have it Cougar fans. I'm in full-on Kool-Aid mode, and I'm loving every second of it.
What are your predictions?