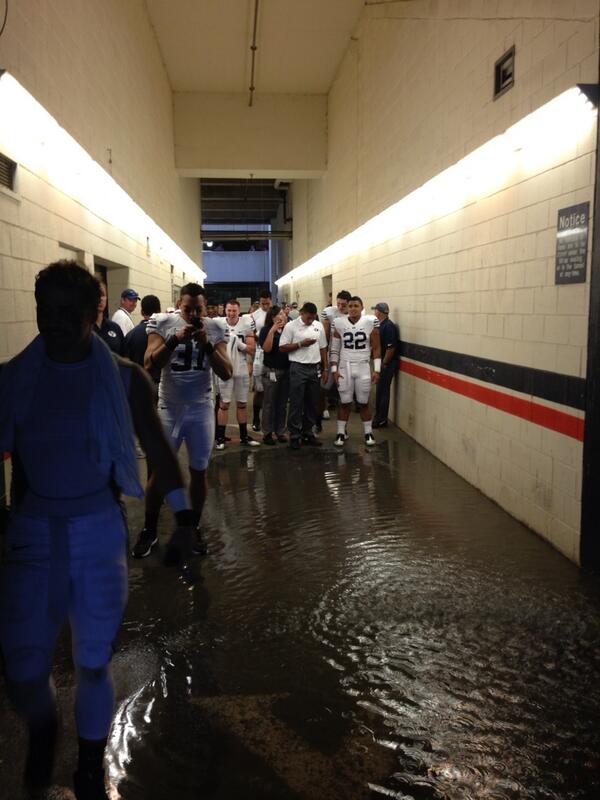 Perhaps the flooding of the visitor's tunnel in
Charlottesville on Saturday was an omen.
It's hard to glean lessons from a game like the one BYU played today against the Virginia Cavaliers. All season openers have kinks to work out, but by all measurements, this game was destined to be ugly. The Cougar offense was behind the eightball to start, with record-setting receiver Cody Hoffman out due to a hamstring injury. When the game started it was a choking 90 degrees, but it felt like 115 due to the humidity. And, of course, there was the thunderstorm that delayed the game, evacuated the entire stadium, and drenched the field.
It's easy to dismiss a close road loss like this one to the freak conditions that dominated the game, but there are a three observations I made from stands at the game today that I think are worth noting. (In the interest of full disclosure, my family and I left after the rain delay and watched the second half from home.). Here they are:
1.
Go Fast Go Hard Backfires
. The much-anticipated fast-paced offense had it's moments--particularly in the fourth quarter drive that ended in Taysom Hill running it in for a touchdown--but the offensive line was clearly not up to the task. UVa's front seven dominated the line of scrimmage and gave the Cougars' passing and running game fits. The O-line looked tired and weak for most of the second half, and I suspect it was because they were exhausted.
2.
Passing Woes
. The O-line was not the only unit to blame for poor execution in the new offense. Taysom Hill looked a lot like his predecessor Riley Nelson, chucking the ball under, over, and around his receivers, even when he had a reasonable amount of time to set his feet and find an open receiver. Hill clearly felt Hoffman's absence and had a hard time finding a consistent replacement target; no single receiver had more than three catches and Ross Apo lead the team with 59 yards through the air only because he caught Hill's Hail Mary to end the game. The passing game is expected to suffer in such wet conditions, but Hill was inaccurate even before the rain came and had his best passing series well into the downpour. (Side note: I was shocked that Anae went away from the swing pass to the running backs that was very effective in the first quarter. Other side note: Rolling Hill out had advantages like Hill occasionally picking up yards with his legs and taking pressure of the O-line, but from the bleachers I could see that when rolling out, Hill overlooked many wide open receivers due to his limited vision as he runs to the sideline.).
3.
Mitch Matthews Underutilized
. While the 6'6" wide receiver had no receptions, Matthews caught three balls out of bounds, two of which were highly contested and poorly thrown. And he made the catches look easy. It is surprising and disappointing that Hill was unable to connect with Matthews for at least one completion.
These are a few observations that I feel warrant attention, but I should stress that I don't think it's time to panic. I suspect that many BYU fans will spend this week demanding that backup quarterback Ammon Olsen be given a chance to start, given Olsen's reportedly great performance in fall camp and Hill's subpar opener. But this game really was a freakish set of circumstances, so I hope and expect that Mendenhall and company will stay the course.