The
AP ranked BYU 25th
this morning, making the Cougars' aspirations for a BCS bowl more attainable than before. But the road will be anything but easy, judging by the success BYU's future opponents have had already this year.
BYU fans already had Utah, Boise State, and Notre Dame circled on their calendars, but some surprise challenges may be ahead. Friday night saw Utah State's first win over the Utah Utes since 1997, and Utah State looked proficient on both sides of the ball. Utah State, who comes to Provo for another Friday night game on October 5th, probably won't roll over against the Aggie fans' most hated rival.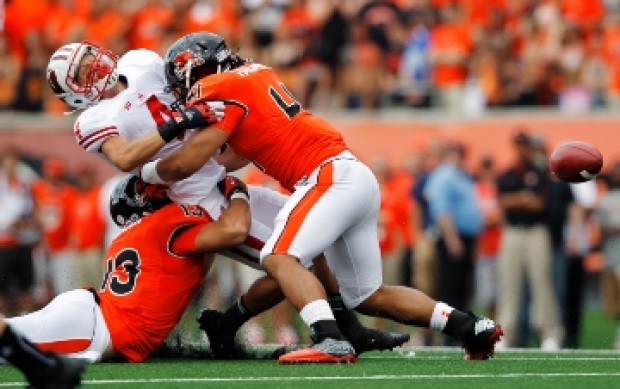 Oregon State showed they are no pushover by beating
Wisconsin Saturday.
Similarly, several other future BYU opponents have also showed their abilities in the first two weeks of action. Oregon State shocked the college football world by upsetting #12 Wisconsin on Saturday in a grind-it-out defensive battle. Georgia Tech lost in a thriller to 16th-ranked Virginia tech but bounced back with a 59-3 clobbering of Presbyterian College.
In short, BYU's schedule suddenly looks pretty tough for the next month or two. The Cougars' next 7 games are against Utah, Boise State, Hawaii, Utah State, Oregon State, Notre Dame, and Georgia Tech. (Although Hawaii got smashed by #2 USC, they always get up to play the Cougars). In reality, BYU can't look forward to games as easy as weeks 1 and 2 until they finish out the season against WAC foes San Jose State and New Mexico State.